Fall is a great season.
You can eat a honeycrisp apple, wear jeans and a hoodie, and go for a run at noon all in the same day.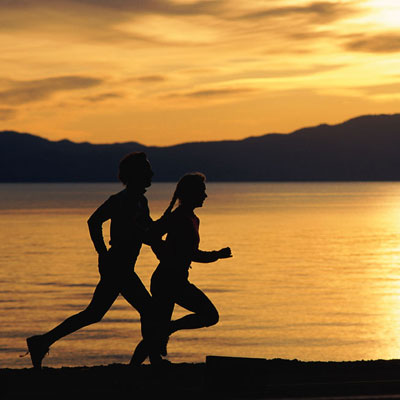 I can't believe that I put on a long sleeve shirt yesterday morning to go for a run. 
Is summer really over?
Although I'm literally peeing my pants because I'm so excited about the weather, it's unbelievable that I'll be wearing gloves and a jacket in a few short months. It was really weird that we had some kind of cold front come through and it actually got into the 50′s last night!
Needless to say, it's my favorite time of the year. 
Football, apple season (I'm looking at you honeycrisps) and absolutely perfect running days. There is minimal humidity along with a crisp, fall breeze that allows you to still run in a light jacket. 
I've had a handful of miserable runs due to the weather this summer, so I'm glad that this weather is behind me for the remaind of the year.
My Favorite Things About Fall Running
1. Cooler Weather Means Faster Running
It's easier to push yourself harder when it's not 100+ degrees with 100% humidity (welcome to Texas). Since your perceived level of exertion is lower when the temperature is lower, you can work harder without it feeling harder.
2. You Can Sleep in
Since the temperatures remain lower throughout the day, you don't have to get up at 5 AM in order to beat the heat. Because I'm naturally an early bird, this doesn't apply to me as much as it does to most people.
My Not So Favorite Parts About Fall Running
1. Shorter Days Equates To More Running In The Dark Since I'm naturally an early bird, most of my runs are done in complete darkness. Although I don't mind it that much, it does make me nervous from a safety perspective.
2. It's Easier To Get Sick
I haven't been truly "sick" in a few years, but I always get a small cold when the weather changes. Actually, it happened this week! Let's hope it goes away soon, which I think it will. I feel considerably better now than I did at the beginning of the week.
Here are a few things I will incorporate this fall:
More stretching since the weather is cooler and my body tends to tighten up.
Spending a little more time warming up for each run.
More foam rolling (this goes along with stretching).
Who knows, maybe I'll sleep in a little bit more on the weekends
What is your favorite time of year to run?
Does your schedule change when the days get shorter and cooler?