I love garlic. Period.
I also love Garlic Gold. It's 100% organic and it tastes like garlic crack.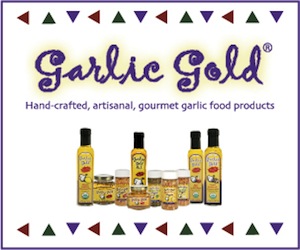 Right now, I'm obsessed with these little nuggets of heaven.
Our most popular item, these delicious Nuggets are hand-made bits of toasted, sweet, mild and crunchy organic garlic. Use as a gourmet topping on anything, including salads, pizza, sushi, baked & mashed potatoes, popcorn, pastas, etc. Our Nuggets make a great sodium free alternative to flavor your meals.
I've been putting them on everything!
Eggs (see below), pizza, baked potatoes, salads, grilled cheese sandwiches…
You name it, garlic goes with it.
I recently fried some eggs is Garlic Gold Oil and topped them with Garlic Gold Nuggets.
It was "OMG" good.
It was literally the best meal I had all week!
With my eggs, I made something I like to call Garlic Gold Swiss Chard.
Ingredients
Directions
In a large skillet over medium, heat the garlic oil.
Add the Swiss Chard and cook, stirring occasionally, until bright green and wilted.
Remove from heat.
Add the nuggets and the red wine vinaigrette.
Toss before serving.
Have you tried Garlic Gold?
*This is not a paid or sponsored review. I purchased the Garlic Gold Products with my own money and wanted to share a product that I love*